Professional football team Nakhon Ratchasima Mazda Football Club (Korat FC) is set to kick off the 2022 football season with a new partner.
Sports marketing agency MANA Global has acquired a stake in the football club, marking a move into the most popular sport in Thailand and into the Asian and global football space.
The deal was announced in a press conference at the Golden Tulip Hotel in Bangkok on the 27th of July, with Korat FC's president Suwat Liptapanlop, executive chairman Yee Worawee Makul, and MANA Global CEO Chris McCormack and COO Wojciech Kruscznski among those in attendance.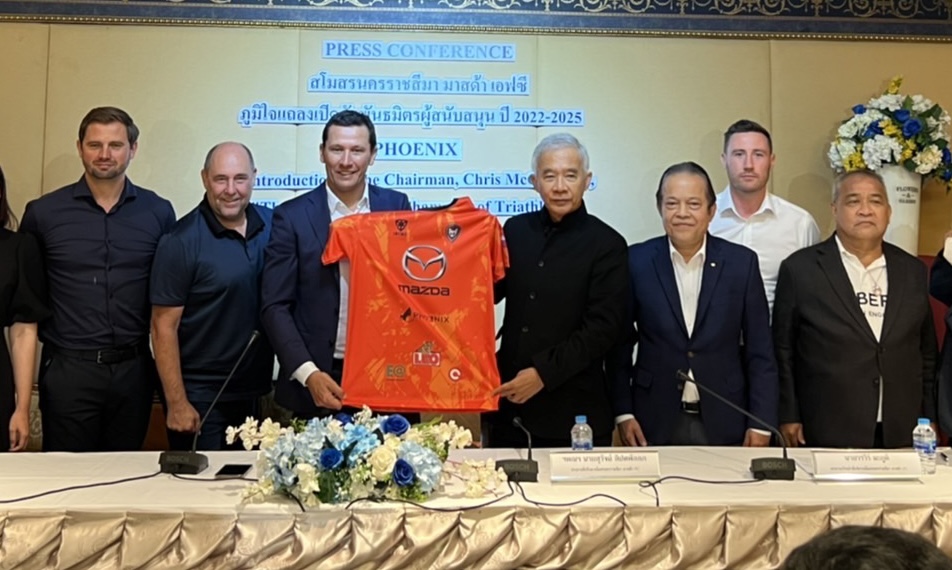 Korat FC has been on the rise, reaching the finals of the Thai FA Cup for the first time in team history and finishing in 9th place at the Thai Football League last season. With newly-appointed Director of Football Chris Kinnear at the helm and fresh talent acquisitions both local and international, the "Swat Cats" are aiming for the top of the T1 League boards and an FA Cup win, chasing qualification into the AFC Champions League and becoming one of the best football clubs in Asia.
MANA Global seeks to make Thailand a base for their further operations in Asia with offices in Bangkok. Their investment in Korat FC also indicates a return to greater involvement in the region for McCormack and the company expansion. The four-time world champion and retired professional triathlete formerly led the development of Thanyapura Phuket to become the region's biggest sports and wellness resort from 2012. He was also the driving force in establishing the first marquee project for United World College in Thailand, opening the gold standard in international schools in Phuket before moving onto the board to steer its integration into the wider international school arena. He also resided in Phuket for eight years before the pandemic brought him home to Australia; he aims to return with his family to Thailand in the next 18 months.
Known more for working within high performance endurance sport through projects like the champion Bahrain Victorious 13 professional triathlon team and the most-watched triathlon media property Super League Triathlon, MANA Global is expanding its footprint in mainstream sport. "We found that the best way to learn and to provide value for our clients is to go through experience," McCormack says. "In football we're here to learn; in professional sport we are the world leaders in that space as we have an acute understanding of what high performance sport looks like from an operational and cultural perspective that leads to success. This partnership with one of the biggest professional teams in Thailand with a huge and wildly devoted fan base is a huge opportunity to help one another grow. MANA Football has expansionary plans across the football space, with a bullish acquisition of international media rights, licensing, talent management and fundraising for team acquisitions."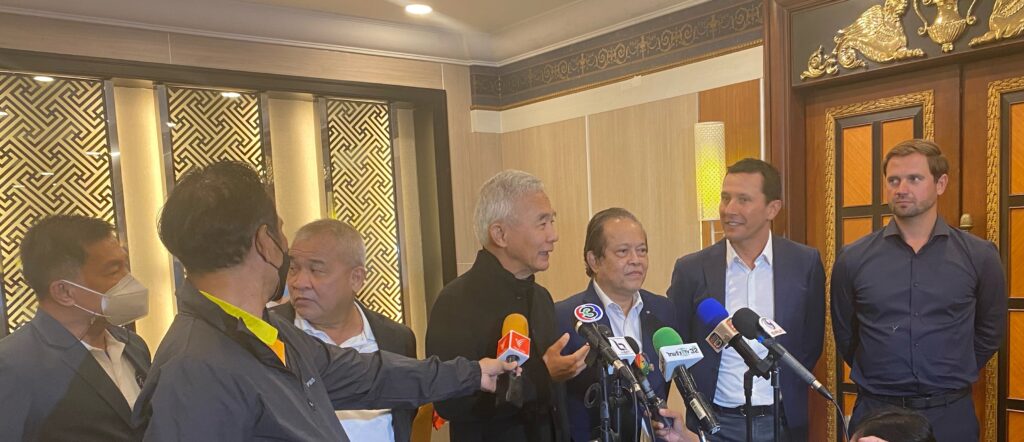 One of the firstfruits of this partnership is a jersey tie-in between Korat FC and Pho3nix Foundation, a sport nonprofit for which Mana Global is running programs around the world. Within Thailand, Mana Global already runs Pho3nix Kids events in triathlon and parkour.
Kruczynski reveals, "Pho3nix's aim is to encourage children to get active and into sport, especially those from underprivileged backgrounds. Football is a major sport that engages kids, and in discussion with Korat FC they have said they want to be a part of our endeavor – to be that funnel to bring more children into sport. With the awareness from our logo appearing on the Swat Cats jersey, we're hoping to bring six or seven thousand kids per year through sport camps run by Pho3nix." Higher participation numbers lead to greater talent identification, which can help grow the sport of football in Thailand even more. "It's our way of paying forward what sport has done for us."
Korat FC plays Buriram United FC at home in its first match for the 2022-2023 Hilux Revo Thai League on 13 August 2022.