Mana Sports and Entertainment Group is proud to introduce Mana Lake: a MANA project that epitomises our commitment to excellence and sustainable impact.
Nestled amidst the breathtaking beauty of the Notecka Primeval Forest in Ławica, an hour away from Poznan, Poland, Mana Lake invites you to rediscover the joys of nature and relaxation.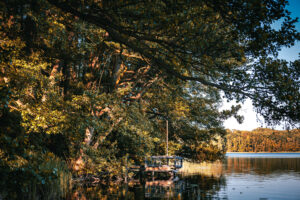 Its year-round holiday homes offer the perfect escape from the urban hustle and tourist crowds. A haven for design enthusiasts and minimalism lovers alike, Mana Lake blends functionality and aesthetics using natural materials like wood and stone to build intimate quiet spaces off the beaten track.
Ten brand new houses can accommodate from four to eight guests, with included amenities such as a fully-equipped kitchen, complimentary WIFI for remote work, and a spacious wooden terrace.
Just 100 meters from the lake, guests can relax in this pristine environment or indulge in Nordic walking, yoga, water activities, and cycling with free access to sports equipment, including bicycles, SUP boards, kayaks, and more. On-site reception, a regional shop, and culinary delights add to the holistic experience.
Further enhancements to the resort complex are in motion, including a yoga and fitness room, sauna, cycling track, sports pitches, hot tubs, and exclusive camper spaces.
"We wanted to create a friendly, intimate place for families with children, enthusiasts of active recreation and lovers of relaxation surrounded by nature – a space that will allow you to free your mind and senses," says Wojtek Kruczynski, chairman of Mana Group. "We wanted to create a place where contact with nature allows you to slow down, find balance and appreciate the here and now."
For more information, visit manalake.pl/en